Ken St. Louis, co-owner of Populore, is retired from a distinguished career as a speech-language pathology university professor and clinician specializing in stuttering and related fluency problems. In that role, he has authored or co-authored more than two hundred scholarly articles, chapters, or books. Retirement has not slowed his commitment to helping stutterers. Nor has it slowed his writing output, and Populore is pleased to help bring his latest work to the public.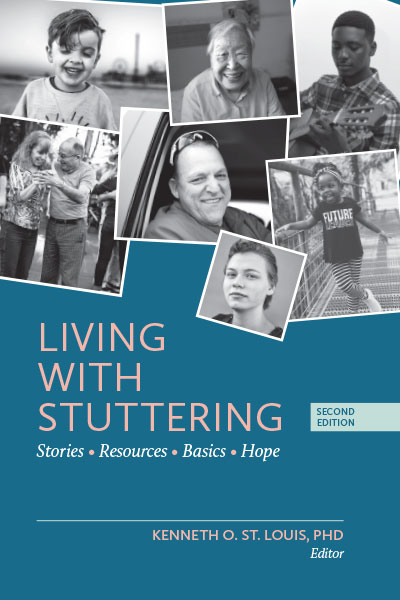 A resource for anyone with a personal, clinical, or academic interest in speech disorders—and anyone with a general interest in the human experience.
Ken St. Louis neatly and thoroughly explains the current state of thinking and practice in the area of stuttering, and some of the history that has brought the profession to this point. Beyond this, the book presents the personal testimonies of twenty-nine people whose lives have been to some degree shaped by their stuttering—stories of humor and heartbreak, acceptance and rejection, and the ability of an individual to define and achieve their own standard of success. These experiences powerfully illustrate that we humans are all very different from each other, yet also very much the same.
About 5 percent of children experience a period of stuttering, and most recover.
TT's father encouraged his son to keep working and working on fluency.
SM developed techniques to hide her problem, and her family ignored it.
AS's father, also a stutterer, was especially hard on him.
SA urges parents of stutterers to support their children.
Therapists aim to improve fluency, and also to help stutterers accept themselves.
"Anytime I've been open with people, they just don't care [that I stutter]."
"As I get older, I am not as sensitive to what people may think."
"I finally broke down and said, 'I can't do this anymore.' "
Stuttering is often accompanied by social, psychological, emotional, and functional impacts.
"After a while you learn to live with the wounds."
"I can see people getting bored or impatient."
"My friends still tease me under the name of 'just a joke.' "
There is some genetic component to stuttering, but the causes are largely unknown.
"The more you trust people, the less you worry about it."
"I could not get the word 'eleven' out, so I told the sales guy I needed a ten."
"I've always wanted to talk a lot, but I just couldn't."
Gender is a factor in stuttering, with many more males than females affected.
"My thoughts were always consumed by what other people thought."
"When I would get really stuck, people would lose interest in the conversation."
"I stuttered my rear end off, but afterwards, I was still alive."
"I still wasn't doing that well. I just decided to go ahead and do it anyway."
Candid stories from people who stutter to make the experience of stuttering real. Thanks to all of the story tellers!
An invaluable book. Stuttering cannot be completely understood unless personal experiences are taken into account.
A book of inspiration, information, and hope.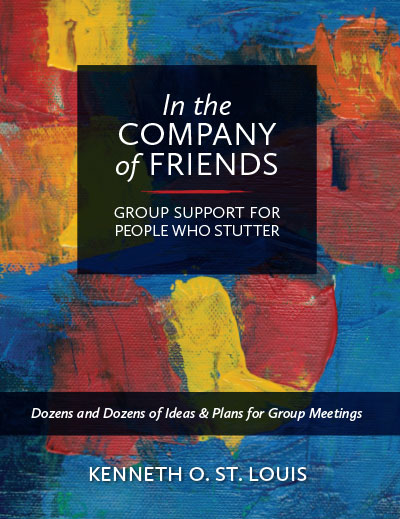 In the Company of Friends
People who stutter can feel lonely in a world of fluency. That's the idea behind the stuttering support group, which brings together people who stutter—and people who support and encourage them—in a safe, accepting environment.
In the Company of Friends is a hands-on guide to conducting stuttering support group meetings, with step-by-step procedures drawing on the experience of nearly four hundred sessions over eighteen years. The book presents more than one hundred complete, ready-to-use meeting ideas that have proven successful at engaging members and guests. Some are serious; some are more lighthearted. A few require advance planning or special equipment but most involve no more than opening the book and beginning. All are designed to last about an hour. Appendices include role-playing ideas used in several activities, instruments and handouts, and a glossary of stuttering terminology.
If you have thought about starting a stuttering support group, or if your group is looking for fresh ideas, this book may be the help you need to establish and sustain your own "company of friends."
Lesson plans are organized into thematic categories such as support for stuttering, understanding stuttering, stuttering in life, managing emotions, dealing with nonstutterers, dealing with adversity, goals and change, understanding therapeutic change, managing stuttering, relapse, resilience, social interactions, public attitudes toward stuttering, stuttering in the media, and improving communication. Each plan includes: preparation before the meeting, welcoming words, setting individual goals for the meeting, a warmup/icebreaker activity, details of the primary activity, take-away lessons, evaluation of individual goals for the meeting, and closing words.
Packed with useful information! Your advice on how to lead a group is spot on.
I have often wanted to start support groups. This resource really provides a structure for a "newbie" to start with.
I love the information … each meeting has a clear goal, an intention to the topic, which will be particularly helpful for new leaders.
Dr. St. Louis is a professor emeritus from West Virginia University (WVU). He has authored and co-authored papers and chapters, led national and international organizations, and lectured widely during his five decades of helping to achieve a greater understanding of stuttering. Ken's efforts on behalf of international communication and cooperation have expanded the possibilities for anyone working in the field.
On the campus of WVU, in addition to directing individual speech therapy for hundreds of children and adults with stuttering, Ken led a weekly support group for more than twenty years, where stutterers, speech-language pathology students, and others met to discuss stuttering and support each other in a welcoming, positive atmosphere.
He is the founder of the International Project on Attitudes Toward Human Attributes (IPATHA), through which he collaborated with researchers from fifty countries, and authored and co-authored hundreds of publications and presentations related to public attitudes and stereotypes or stigmas related to stuttering and other stigmatizing human conditions. The American Speech-Language-Hearing Association has recognized Ken as a "Fellow" of the organization. At WVU, he earned both the Benedum Distinguished Scholar award for outstanding faculty research and the Heebink Award for Distinguished West Virginia state service. In 2016, he was awarded the Lifetime Achievement Award by the International Fluency Association, a group he helped found in 1990, in recognition of his distinguished career and contributions in the area of fluency disorders.
Beyond his academic and organizational achievements, Ken's greatest legacy will no doubt be his effect on the lives of stutterers. Through the IPATHA initiative, he has been especially active in uncovering social attitudes toward stuttering and providing a framework for stutterers and others to better understand themselves. Maybe most importantly, countless stutterers have known Ken as a therapist, teacher, group leader, advocate, mentor, and friend. And—though mostly recovered—also as a fellow stutterer.